Brandy Lake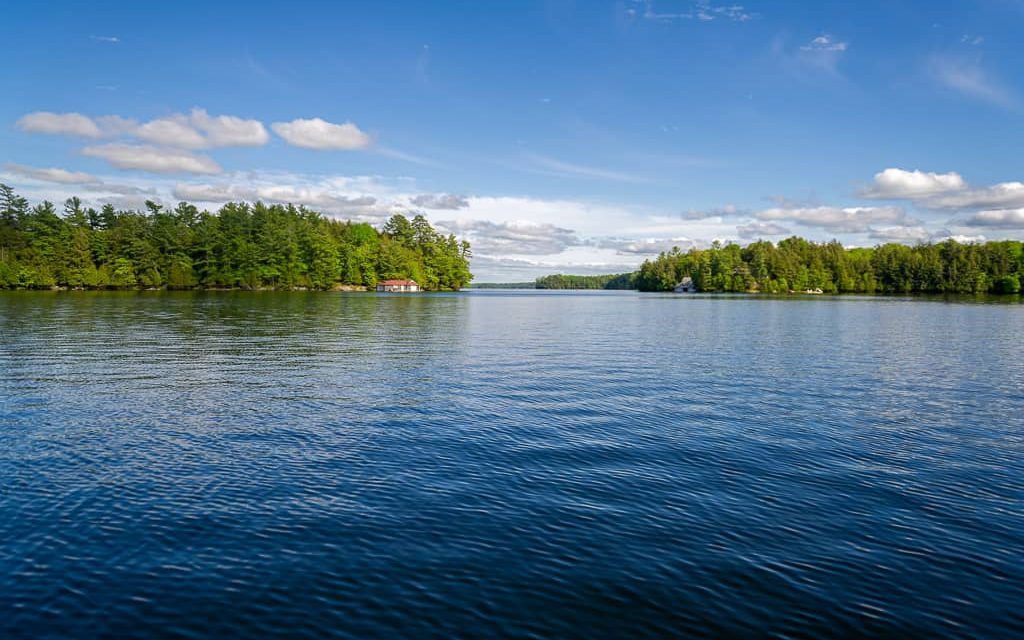 Introduction
Brandy Lake gets its name from the colour of the water, which is naturally dark due to the organic materials in its depths. Located just 7 minutes from Port Carling and 20 minutes from Bracebridge, the lake offers the very best of both tranquillity and convenience.
Activities on the lake
Nestled perfectly amongst The Big Three – larger lakes, Lake Joseph, Lake Rosseau, and Lake Muskoka – Brandy Lake is a much quieter lake, which makes it perfect for water sports such as canoeing, kayaking and stand-up paddleboarding. Water skiing and tubing are top-rated on the lake, and you might even spot a sailboat or two out and about on the water. Visitors to the lake appreciate the calm waters of Brandy Lake and its scenic shoreline. With over 10 kilometres of shoreline and several unique inlets and small bays, this lake certainly has character. You will find the view of a lifetime among the stunning rock outcroppings and tall mature pine trees. Just imagine looking out your floor-to-ceiling wall of windows toward the most fantastic sunrise you've ever seen as you drink your morning coffee and send the kids outside to go swimming — what a relaxing way to start the day.
Boating and fishing
For individuals looking for boating fun on the water, you'll find a boat launch on the Northern side of the lake on Pickerel Lane. Once on the water, you can pull out your fishing rod and become acquainted with the healthy population of large and smallmouth bass inhabiting the lake. You'll also spot the occasional burbot and northern pike.
Exploring the area
After spending some time off the water, why not head into the picturesque town of Port Carling, only a short drive away? There you will discover a cornucopia of restaurants and shops to explore. Whether it's items you need for the cottage or trendy gifts for the family and friends at home, you will find them there.
And if you're not ready to say goodbye to Brandy Lake yet, feel free to check out The Brandy Lake Association for current goings on. The community group was founded by residents of the lake who are passionate about the continued well-being of Brandy Lake and its watershed. They have often hosted "flotilla" boat parades, regattas and other social greets on the lake. So why not get involved?
Brandy Lake has a lot to offer. Can you picture yourself in a waterfront cottage on the lake?
| Location | |
| --- | --- |
| Official Name | Brandy Lake |
| County/District | Muskoka |
| Municipality | Township of Muskoka Lakes |
| Drainage Basin | Muskoka River – Lake Muskoka |
| Latitude/Longitude | 45.108 N 79.526 W |
| Physical Features | |
| --- | --- |
| Surface Area (km) | 1.16 |
| Elevation (m asl) | 244 |
| Mean Depth (m) | 3.5 |
| Maximum Depth (m) | 7.5 |
| Perimeter (km) | 11.3 |
| Island Shoreline (km) | 0.3 |
| Clarity (m) | 1.3 |
| Land Use and Development | |
| --- | --- |
| Crown Land (%) | 0 |
| Provincial Parks | none |
| Shoreline Development | high; shoreline residential |
| Access | public; boat launch with dock off Brackenrig Road |
| Water Level Management | not regulated |
| Fish Species | |
| --- | --- |
| Major Fish Species | largemouth bass, smallmouth bass, burbot, walleye, northern pike, black crappie |
| Other Fish Species | cisco, rock bass, brown bullhead, white sucker, pumpkinseed, golden shiner, yellow perch, trout-perch, logperch |
>