Kawagama Lake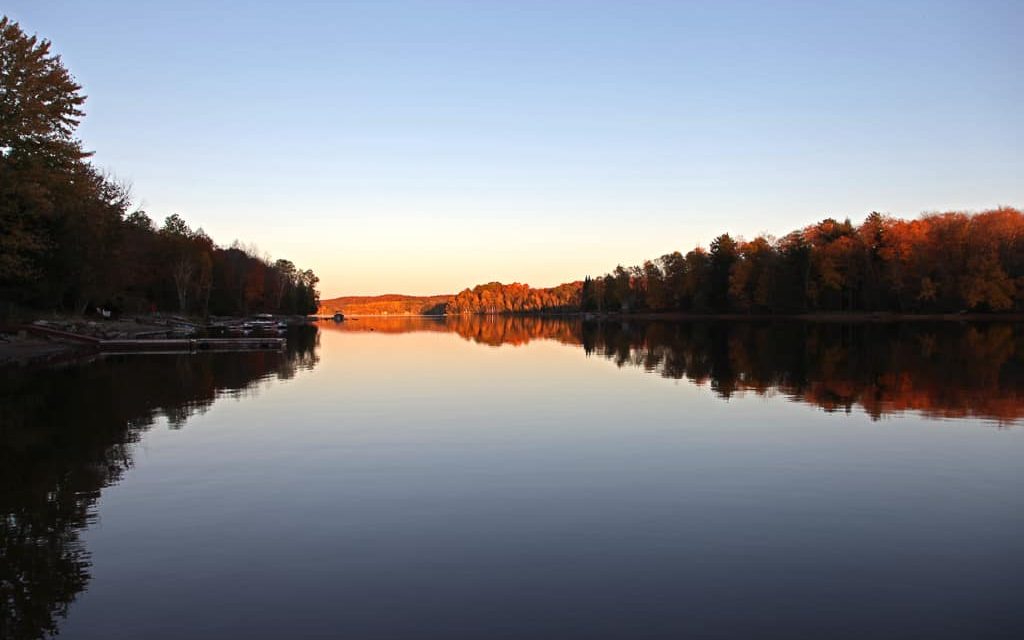 Introduction
As one of the largest lakes in the region, Kawagama has something to offer, no matter where your interests lie.
Activities on the lake
If you like taking your boat out on the lake, you will love the choice of two marinas on Kawagama. The lake's west side is home to Mountain Trout and Old Mill Marina. Storage and repair services are available to keep your boat in its prime. Once you are all gassed up and ready to go, feel free to explore over 31 km of crystalline lake. While on the water, watch for the ever-present loons and ducks, and ready your fishing rod to catch some fish. You won't be surprised to find brook trout, lake trout, lake whitefish, and round whitefish nibbling on your line. And if you adore fishing, and you're any good – and even if you're not – why not register in the Kawagama Lake Cotters Association's Fishing Derby?
If boating and fishing aren't for you, let the crystal clear water's allure tempt you on a hot summer day. Feel the rush of jumping into the lake off the dock. Spend the day swimming around or hanging out on a floating island. Grab a canoe or kayak and paddle around Dennison or Bear Island if you feel energetic. Let the exercise fuel your body while the view fuels your soul.
Exploring the area
The fun doesn't stop once you are off the water. First, take a trip into the village of Dorset, a mere ten minutes away, where you can stock up on all the essentials you need for the perfect cottage vacation. While in town, check out the locally famous Dorset Lookout Tower, where you can see a 360-degree view of the gorgeous landscape. Then, head over to Robinson's General Store – voted Canada's Best Country Store. Or stop by the Dorset Heritage Museum, perfect on a stormy summer day.
If you are ready to start searching for your dream cottage, we can help your dream become a reality!
| Location | |
| --- | --- |
| Official Name | Kawagama Lake |
| Local Names | Hollow Lake |
| County/District | Haliburton |
| Municipality | Township of Algonquin Highlands |
| Drainage Basin | Muskoka River – Hollow River |
| Latitude/Longitude | 45.401 N 78.746 W |
| Physical Features | |
| --- | --- |
| Surface Area (km) | 31.50 |
| Elevation (m asl) | 383 |
| Mean Depth (m) | 22 |
| Maximum Depth (m) | 73 |
| Perimeter (km) | 109 |
| Island Shoreline (km) | 24 |
| Clarity (m) | 7.9 |
| Land Use and Development | |
| --- | --- |
| Crown Land (%) | 60 |
| Provincial Parks | none |
| Shoreline Development | moderate; shoreline residential, commercial, recreation camp |
| Access | public and private; public launches at Kawagama Lake Road, Bear Lake Road and McClintock Road; private launches at marinas |
| Water Level Management | regulated; water level is controlled by MNR owned and operated dam at west end of lake; flows and levels are governed by the Muskoka River Water Management Plan |
| Fish Species | |
| --- | --- |
| Major Fish Species | brook trout, lake trout, lake whitefish, cisco (lake herring), round whitefish, rainbow smelt, burbot, rock bass, smallmouth bass, yellow perch, walleye, northern pike |
| Other Fish Species | lake chub, northern redbelly dace, pumpkinseed, finescale dace, ninespine stickleback, brook stickleback, brown bullhead, white sucker, Iowa darter, common shiner, bluntnose minnow, blacknose dace, longnose dace, creek chub |