Lake Cecebe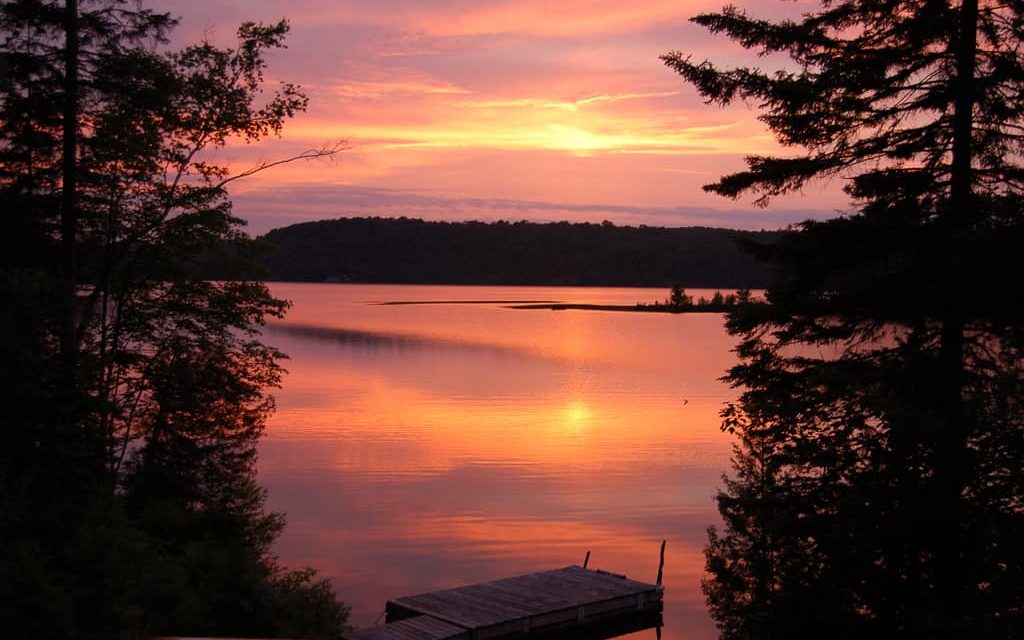 Introduction
Have you ever wondered how owning a cottage by the lake would feel? How relaxing would it be to sip that much-needed coffee while enjoying stunning lake views? If you've started to picture yourself there, let us welcome you to the perfect setting for your daydream. Welcome to Lake Cecebe.
Located in beautiful Almaguin, just west of the village of Burk's Falls, Lake Cecebe has the most unusual shape. With a surface area of over 7 km2, this lake has a shoreline stretching over 30 km. Just think of the fun and exciting things you can do with that!
Activities on the lake
Lake Cecebe is home to a fantastic park, Lions Park. The grounds include a playground, picnic tables, a beach and a dock area. It's a great place to meet friends or spend a day out with the family. The naturally sandy bottom makes swimming a delight, and if fishing is your thing, you will find several species of fish living in Lake Cecebe. Rainbow trout, brook trout, lake trout, pickerel, smallmouth bass, and yellow perch are among the most popular. Boaters will find the local marina and its boat launch at Port Carmen Marina on the north end of the lake.
Lake Cecebe is ideal for boating and water sports of all kinds. Grab a canoe or kayak and paddle around Gordon Island, or see if the wind is calm enough to try your stand-up paddle board near Clifton Island. And if you want to take a break to cool off, the small bays surrounding the lake are perfect for swimming. After a relaxing day on the water, take a trip to nearby Magnetawan or Burk's Falls, where you'll find groceries, great local food trucks, and much more.
The Waterways Association
If you are looking for organized events on the lake, check out The Cecebe Waterways Association. The group hosts several fun gatherings and competitions throughout the seasons. Recently, the focus has been on the annual golf tournament, poker run and Regatta. The yearly Les Naftel Golf Tournament kicked off the season in July at The Ridge Golf Course in Sundridge. It was an excellent chance for cottagers and guests to get together for fun on the links. Also scheduled over the summer are the Annual Regatta and Poker Run. Both events were designed for family-friendly fun in and on the water, featuring swim, canoe/kayak and sailing races, highly competitive triathlon and more. Sound like fun?
If you like what you've heard about Lake Cecebe, contact us, and we can help you find that perfect home on the shore.
| Location | |
| --- | --- |
| Official Name | Lake Cecebe |
| County/District | Parry Sound |
| Municipality | Municipality of Magnetawan Township of Ryerson |
| Drainage Basin | Magnetawan River |
| Latitude/Longitude | 45.641 N 79.582 W |
| Physical Features | |
| --- | --- |
| Surface Area (km) | 7.70 |
| Elevation (m asl) | 280 |
| Mean Depth (m) | 5 |
| Maximum Depth (m) | 19.5 |
| Perimeter (km) | 32.2 |
| Island Shoreline (km) | 3.7 |
| Clarity (m) | 2.8 |
| Land Use and Development | |
| --- | --- |
| Crown Land (%) | 1 |
| Provincial Parks | none |
| Shoreline Development | high; shoreline residential |
| Access | public; 2 boat launches off Hwy 520 |
| Water Level Management | regulated; water level is controlled by an MNR owned and operated dam; flows and levels are managed in accordance with the Magnetawan River Operating Plan |
| Fish Species | |
| --- | --- |
| Major Fish Species | walleye, smallmouth bass, sauger, largemouth bass, lake whitefish, northern pike |
| Other Fish Species | rock bass, yellow perch, pumpkinseed, cisco, burbot, trout-perch, brown bullhead, logperch, white sucker, bluntnose minnow, rainbow smelt, emerald shiner, golden shiner, spottail shiner |