Lake Joseph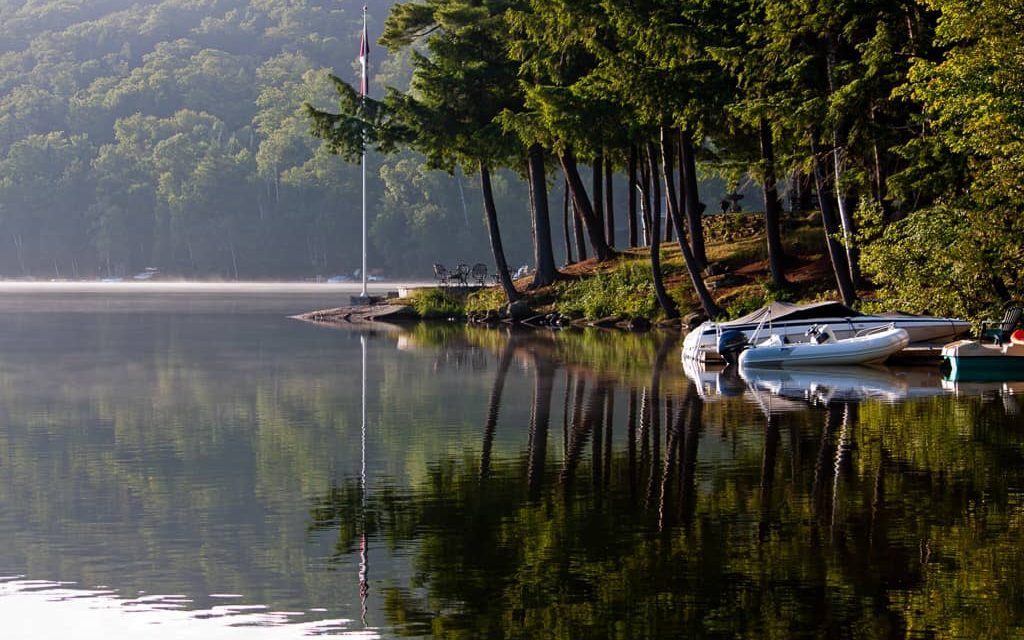 Introduction
Lake Joseph, or "Lake Joe" as often called, sits in one of Ontario's most popular vacation destinations: the Muskoka Lakes region. If you want to step away from the busy city life and experience the Muskoka lifestyle, there is no better location than Lake Joseph. It is home to some of the most exclusive cottages in the area, many owned by the rich and famous.
The allure of Lake Joseph is not limited to the occasional celebrity sighting. The lake itself is rather remarkable; enormous, deep and exceptionally clear. And it is an oligotrophic lake. The organisms that live within its depth can survive on little nutrients, which results in limited debris to muddy up the water. And as one of the Big Three, Joseph offers access to 500+ kilometres of crystal clear shoreline to explore.
Activities on the lake
This crystal clear and virtually calm lake is ideal for water sports like wakeboarding, water skiing, tubing and swimming. And there's fishing. Fishing has to be one of the most popular activities that draw visitors to the lake. But it might have something to do with Lake Joseph's being full of several different fish species. Lake trout, walleye, whitefish, northern pike, and bass are among the most abundant species. And fishing on Lake Joseph is not only popular during the summer months; anglers enjoy ice fishing season on the lake as well.
Exploring the area
There is a lot to see and do around the Lake Joseph area. For the avid golfer, the area boasts some of the most premium golf courses; Lake Joseph Golf Club, Diamond in the Ruff and The Rock are just a few. More public and private courses await just a short drive away in the Port Carling area.
The Seasons on Lake Joseph
Whether you visit in the middle of the summer or at the height of the snow season, Lake Joseph is a marvel. The winter creates a snowy white wonderland where you can ski, snowmobile or snowshoe through some of the best cottage country trails. The fall brings the spectacular sight of changing leaves, providing a gentle backdrop to your evening campfire by the lake. And finally, the spring and summer awaken the lake like never before, and you are free to enjoy all the sparkling waters provide.
New activities and vastly changing landscapes await you at Lake Joseph.
Location
Official Name
Lake Joseph
Local Name
Lake Joe, Little Lake Joseph
County/District
Muskoka, Parry Sound
Municipality
Township of Muskoka Lakes
Township of Seguin
Drainage Basin
Lake Rosseau
Latitude/Longitude
45.176 N 79.730 W
| Physical Features | |
| --- | --- |
| Surface Area (km) | 54.60 |
| Elevation (m asl) | 225 |
| Mean Depth (m) | 25 |
| Maximum Depth (m) | 93 |
| Perimeter (km) | 140 |
| Island Shoreline (km) | 91 |
| Clarity (m) | 6.7 |
| Land Use and Development | |
| --- | --- |
| Crown Land (%) | 0 |
| Provincial Parks | none |
| Shoreline Development | intense; urban, commercial, shoreline residential |
| Access | public; public launches in Cox Bay, Foot's Bay and numerous marinas |
| Water Level Management | regulated; water level is controlled by an MNR owned and operated dam at Port Carling; flows and levels are governed by the Muskoka River Water Management Plan |
| Fish Species | |
| --- | --- |
| Major Fish Species | lake trout, lake whitefish, smallmouth bass, northern pike, muskellunge, burbot, black crappie, walleye, largemouth bass |
| Other Fish Species | white sucker, brown bullhead, cisco, spottail shiner, trout-perch, central mudminnow, rainbow smelt, slimy sculpin, bluntnose minnow, margined madtom, mottled sculpin, blacknose shiner, creek chub, ninespine stickleback, brook stickleback, pumpkinseed, banded killifish, yellow perch, Iowa darter, rock bass, golden shiner |