Leech Lake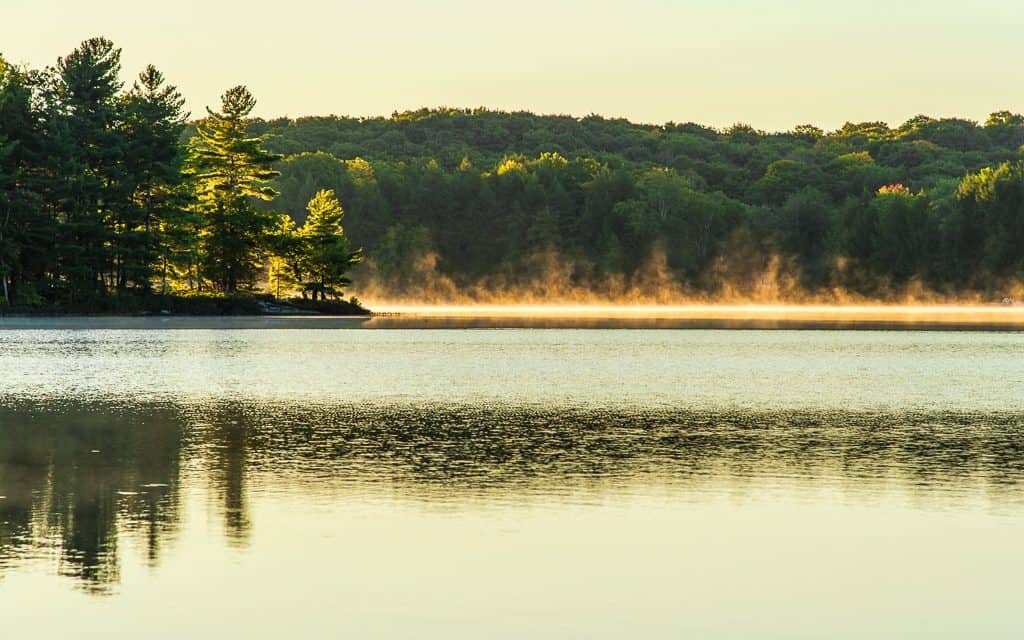 Introduction
Welcome to Leech Lake, a small, clean lake just 22 kilometres east of Bracebridge's beautiful and historic town centre. Leech Lake sometimes gets overlooked as one of several lakes in the area, making it a fantastic choice for visitors looking to explore the more rustic wilds of Cottage Country.
Summer is the ultimate time to enjoy the outdoors. Of course, since the sun is out longer, we can pack a lot more activity into the hours of the day. But more than anything, summer is the time to recharge, balance being active, enjoy the outdoors and relax. And, where better to recharge your batteries, so to speak, than the lake?
Activities on the lake
Leech Lake's small surface area is a big plus. Smaller lakes commonly equal more privacy and less boat traffic. These are real benefits to you and make for an ideal cottage experience. In addition, you will be free to take in the quiet from your dock, which means it'll be easier to shake off the stress that often comes with living in the city. And once you are stress-free and ready to hit the lake, you'll appreciate the calm, clear waters before you. Swimming, canoeing, kayaking, tubing and stand-up paddleboarding (SUP) are great ways to enjoy the serenity of this small lake.
If fishing is your thing, break out the rod and see what's biting. The most common species in Leech Lake are rainbow trout, smallmouth bass and largemouth bass, but you'll probably end up with some white sucker, brown bullhead, and yellow perch on your line. So why not get in your boat and head out onto the water? Launch your boat from the junction of Korne Road and Lakeshore Drive, find a nice, quiet spot and drop your line. Enjoy the peaceful sounds of the waves lapping at the shore and the calls of the wildlife surrounding you as you reel in that rainbow trout you promised to catch for dinner.
Exploring the area
If you check out the rugged landscapes away from the lake, you'll find Bigwind Lake Provincial Park nearby. The park is open to the public and features excellent trails for biking. You can even venture out onto the water of nearby lakes for more fishing and canoeing. Avid golfers will appreciate a stop in Bracebridge for a round or two of golf at one of the several golf courses in town. Then, visit legendary Santa's Village for family fun or walk downtown and visit the trendy local shops. Your options are endless.
If Leech Lake sounds like the place for you, we can help you find the perfect spot for your new home away from home.
| Location | |
| --- | --- |
| Official Name | Leech Lake |
| County/District | Muskoka |
| Municipality | Town of Bracebridge |
| Drainage Basin | South Muskoka River |
| Latitude/Longitude | 45.052 N 79.098 W |
| Physical Features | |
| --- | --- |
| Surface Area (km) | 0.81 |
| Elevation (m asl) | 313 |
| Mean Depth (m) | 6.3 |
| Maximum Depth (m) | 14 |
| Perimeter (km) | 5.8 |
| Island Shoreline (km) | 0.1 |
| Clarity (m) | 3.3 |
| Land Use and Development | |
| --- | --- |
| Crown Land (%) | 5 |
| Provincial Parks | none |
| Shoreline Development | very high; shoreline residential |
| Access | public; road allowance at junction of Lorne Rd and Lakeshore Drive |
| Water Level Management | not regulated |
| Fish Species | |
| --- | --- |
| Major Fish Species | rainbow trout, smallmouth bass, largemouth bass |
| Other Fish Species | white sucker, brown bullhead, pumpkinseed, rock bass, yellow perch, slimy sculpin |