Morrison Lake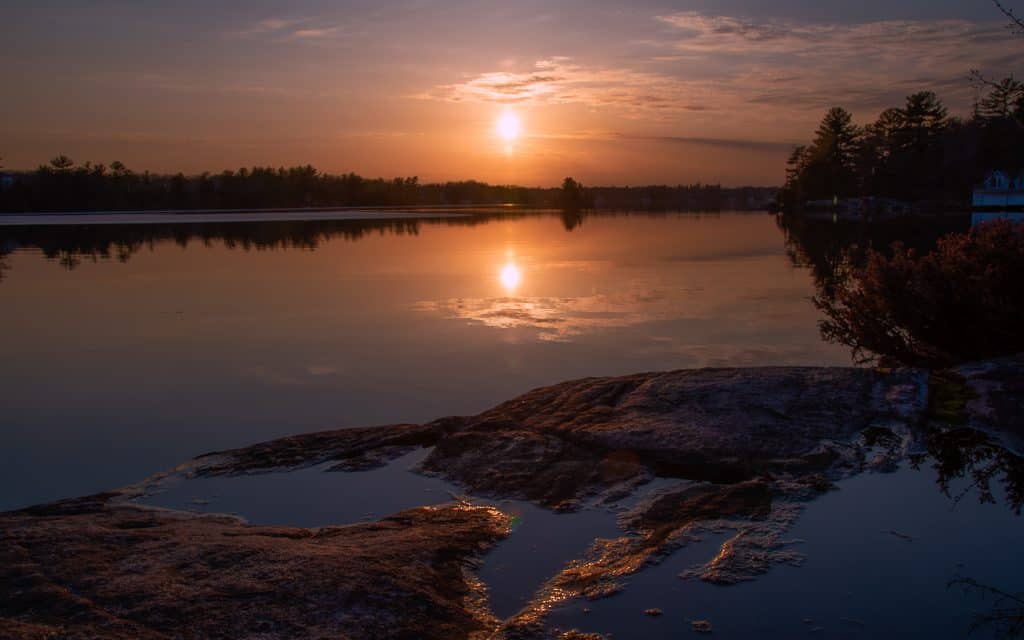 Introduction
Looking for a tranquil cottage experience in Muskoka? Consider Morrison Lake! Located just 23 kilometres southwest of Gravenhurst, this lake boasts excellent views due to its slightly rounded shape. With a more sandy shoreline than most lakes in the area, Morrison Lake is fed by a river flowing from Muldrew Lake, and a stream flows into the Severn River at its south end. Additionally, over 5% of the shoreline is environmentally protected land. The lake offers plenty of opportunities for recreational activities and easy access to various amenities nearby.
Activities on the lake
For those seeking relaxation, Morrison Lake is the ideal destination. The lake's average size means there is ample space to explore in your boat, kayak or canoe while enjoying the breathtaking sunset views. Take a tour around Mile Island, the largest of the many islands scattered throughout the lake, and relish the stunning scenery. You can launch your vessel at the public boat launch on North Morrison Lake Road, making it a perfect starting point for your adventure.
Besides cruising around the lake, there are endless activities to pursue. You can relax on the dock while sipping cocktails, take a refreshing dip in the water, or explore the islands and ride a bicycle around the lake. With the sandy shoreline, everyone can enjoy swimming or playing in the sand, regardless of age.
Fishing on Morrison Lake
Anglers will appreciate the weedy area behind Mile Island, known as a favourite fishing spot. You can drop your line in the water and try to catch smallmouth bass, largemouth bass, muskellunge, northern pike, and other species like brown bullhead, golden shiner, white sucker or yellow perch.
Exploring the area
After a day of unwinding or engaging in water activities, you may want to explore the surrounding area. Head to Gravenhurst's Muskoka Steamship and Discovery Centre, where you can enjoy an exhibit or take a cruise on a historic ship. Alternatively, play a few rounds of golf at the Muskoka Bay Golf Course, rated one of the Top 10 in Canada.
Experience your dream cottage on Morrison Lake, and enjoy a peaceful getaway.
| Location | |
| --- | --- |
| Official Name | Morrison Lake |
| County/District | Muskoka |
| Municipality | Town of Gravenhurst |
| Drainage Basin | Severn River |
| Latitude/Longitude | 44.8711 N 79.4539 W |
| Physical Features | |
| --- | --- |
| Surface Area (km) | 2.49 |
| Elevation (m asl) | 229 |
| Mean Depth (m) | 4 |
| Maximum Depth (m) | 18 |
| Perimeter (km) | 11 |
| Island Shoreline (km) | 8 |
| Clarity (m) | 3.5 |
| Land Use and Development | |
| --- | --- |
| Crown Land (%) | 5 |
| Provincial Parks | Morrison Lake Wetland Conservation Reserve |
| Shoreline Development | high; shoreline residential, commercial |
| Access | permitted; North Morrison Lake Road off Southwood Road |
| Water Level Management | not regulated |
| Fish Species | |
| --- | --- |
| Major Fish Species | smallmouth bass, largemouth bass, muskellunge, northern pike |
| Other Fish Species | brown bullhead, golden shiner, pumpkinseed, cisco (lake herring), white sucker, rock bass, trout-perch, yellow perch, spottail shiner, bluegill |