Peninsula Lake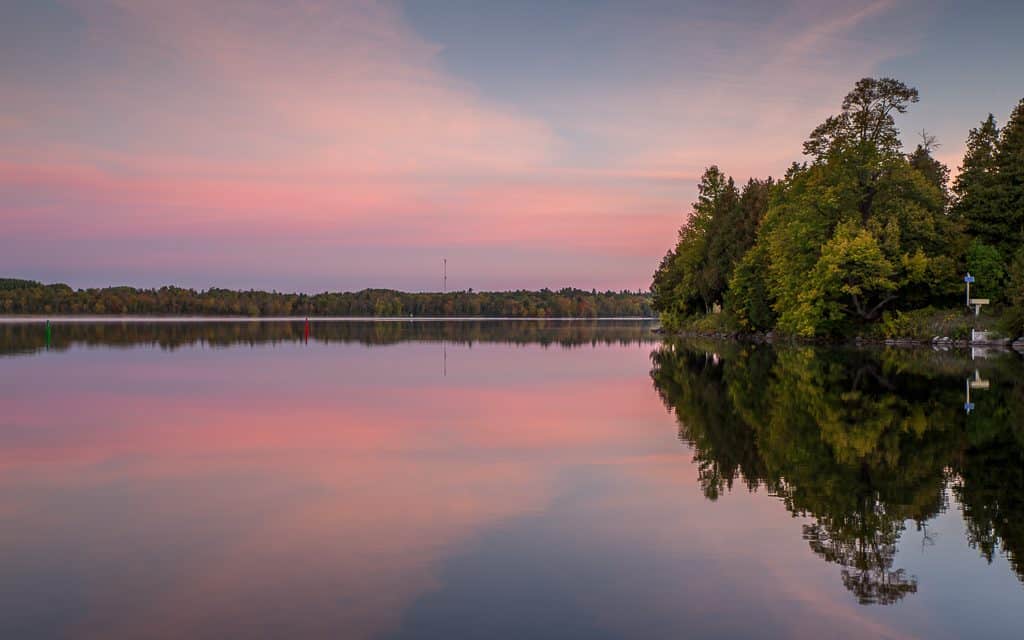 Introduction
Lovingly referred to as 'Pen Lake' by the locals, Peninsula Lake sits within the municipalities of both Huntsville and Lake of Bays and is one of the larger lakes that make up the chain of Mary Lake-Fairy Lake-Vernon Lake-Peninsula Lake. With its beautiful shorelines and easy access to services and amenities, Pen Lake is an excellent place to consider buying a cottage.
Activities on the lake
Each season in Muskoka is breathtaking in its own way. And each offers many outdoor activities to keep you both active and entertained, and Pen Lake is a prime example. The lake provides boat enthusiasts with over 27 km of natural shoreline to explore, and when connected with the other three links in the chain of Huntsville lakes, you now have access to over 64 km of boating. Each kilometre brings you services and amenities, sights and places to visit. Pen Lake, in particular, offers marina services, several public boat launch launches, and options for docking your boat if you stop at some local shops and restaurants.
If other kinds of water sports are your idea of fun, rest assured, Pen Lake is great for that as well. The small bays making up the lake can offer some privacy for swimmers, while the open waters are perfect for the adventurous sailor, canoer or kayaker. The Peninsula Lake Association frequently organizes activities for those types of enthusiasts. For example, they routinely hold Sailing Races and a Regatta in July and August, promoting fun and friendly competition. They've even planned a couple of golf tournaments in town.
Exploring the area
Golf in Muskoka is widely known, and Deerhurst Resort is just a quick boat ride away, where you can participate in world-class golfing. So grab your clubs and head out onto the green. While you're beating your friends at a couple of rounds, your kids can try hiking the trails at the resort, treetop trekking or paintball. So whether you're hitting a dimpled ball on the ground or shooting a ball of paint from a gun, you can take in the natural surroundings that make Muskoka such a special place to visit while you do.
If you want to take up the cottage life but want to remain close to the amenities of the city, look no further. Peninsula Lake is the answer.
Location
Official Name
Peninsula Lake
Local Names
Pen Lake
County/District
Muskoka
Municipality
Town of Huntsville
Township of Lake of Bays
Drainage Basin
Muskoka River – Mary Lake
Latitude/Longitude

45.338 N 79.100 W
| Physical Features | |
| --- | --- |
| Surface Area (km) | 8.40 |
| Elevation (m asl) | 284 |
| Mean Depth (m) | 11.7 |
| Maximum Depth (m) | 37 |
| Perimeter (km) | 29.8 |
| Island Shoreline (km) | |
| Clarity (m) | |
| Land Use and Development | |
| --- | --- |
| Crown Land (%) | 0 |
| Provincial Parks | none |
| Shoreline Development | high; shoreline residential, commercial |
| Access | public; public launches: beside Tally-Ho Inn off Hwy 60; SE end of lake off North Portage Road; Huntsville town docks via Fairy Lake. |
| Water Level Management | regulated; water level is control by an MNR owned and operated dam at outlet of Fairy Lake; flows and levels and levels are governed by the Muskoka River Water Management Plan |
| Fish Species | |
| --- | --- |
| Major Fish Species | brook trout, lake trout, cisco (lake herring), lake whitefish, rainbow smelt, northern pike, smallmouth bass, yellow perch, Walleye), Black Crappie |
| Other Fish Species | blacknose shiner, blackchin shiner, common shiner, bluntnose minnow, northern redbelly dace, white sucker, longnose sucker, brown bullhead, Iowa darter, pumpkinseed |