Walker Lake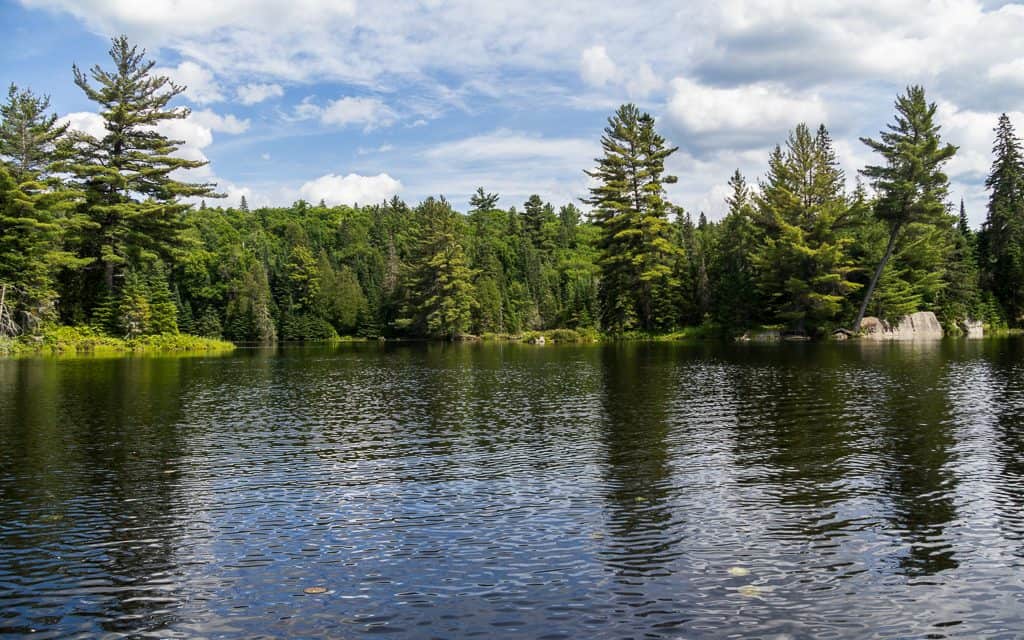 Introduction
Located just 15 kilometres from Huntsville, Walker Lake is genuinely remarkable. The lake may not be massive, but its size does nothing to detract from its quiet beauty. What could be better than waking up next to this tranquil, family-friendly lake, sipping your morning coffee and taking in the sights and sounds from your outdoor deck?
Unlike several other lakes in the region, motorized boats are free to roam the waters of Walker Lake; however, speed is restricted to 12 km/hr. Boaters will find a natural boat launch suitable for small boats, canoes and kayaks located on the lake's southwestern tip on Walker Lake Drive. The lake is top-rated for fishing, and anglers in the area report this lake as the ideal location for trout and bass.
Activities on the lake
If you like to stay active, rest assured; Walker Lake and the surrounding area offer many options. The unique shape of Walker Lake consists of many little bays, coves and inlets which provide privacy, and the open waters are perfect for the adventurous canoer or kayaker. The lake's proximity to the Tally Ho boat launch and access to nearby Peninsula Lake also bring even more great ways to explore the beauty of Muskoka in the late summer and early fall.
During the winter months, Walker Lake becomes a winter paradise! So bundle up, head out and enjoy the refreshing Muskoka air and sparkling white playground for all ages. The snow brings many activities to suit everyone's tastes: ice fishing, sleigh riding, sledding, and winter hiking. In addition, Walker Lake residents often ice skate, snowshoe, and walk their dogs on the lake, as it is known to freeze over completely. Picture the snow falling around you as you walk, snowshoe or cross-country ski along the 6-kilometre (approximately) shoreline. And while snowmobiling on the lake is not common, it is popular in the areas around Walker Lake, as it is one of Muskoka's beloved winter pastimes.
Exploring the area
If you venture away from the lake, you won't have to go far to participate in your favourite outdoor activities. Whether golf, hiking, treetop trekking, paintball in the summer and fall, or skiing and snowboarding in the winter, a short drive to Deerhurst Resort or Tally Ho in Huntsville will do the trick. Algonquin and Arrowhead Park are also nearby, offering many hiking trails for every skill level, some leading past frozen falls and ancient lakes. Take your camera to capture the breathtaking scenery, including lush forests, granite outcroppings, and wildlife.
And if you're interested in checking out the local scene, stop in Huntsville and visit some trendy local shops and fabulous restaurants. Depending on the time of year, the town is also known to celebrate the season with fun local festivals.
If you want to live the cottage life but don't want to leave the amenities of the city behind, look no further. Walker Lake is the answer.
| Location | |
| --- | --- |
| Official Name | Walker Lake |
| County/District | Muskoka |
| Municipality | Township of Lake of Bays |
| Drainage Basin | Muskoka River – Mary Lake |
| Latitude/Longitude | 45.381 N 79.086 W |
| Physical Features | |
| --- | --- |
| Surface Area (km) | 0.75 |
| Elevation (m asl) | 361 |
| Mean Depth (m) | 5 |
| Maximum Depth (m) | 16 |
| Perimeter (km) | 6.8 |
| Island Shoreline (km) | 0.5 |
| Clarity (m) | 4.9 |
| Land Use and Development | |
| --- | --- |
| Crown Land (%) | 0 |
| Provincial Parks | none |
| Shoreline Development | moderate; shoreline residential |
| Access | public; boat launch off Walker Lake Road, from Hwy 60 |
| Water Level Management | not regulated |
| Fish Species | |
| --- | --- |
| Major Fish Species | rainbow trout, lake trout, brook trout, smallmouth bass, largemouth bass |
| Other Fish Species | creek chub, blacknose shiner |